Tasting Room at Frind
---
Tasting Bar Reservations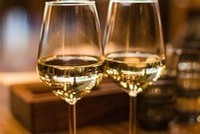 Our tasting experience is designed with the safety of you and our team in mind with separated tasting spaces, minimal touch wine service, and contactless payment. We look forward to welcoming you 7 days a week.
Valentine's Wine & Chocolate Tasting
Many people assume that red wine with chocolate is the best rule to follow when pairing wine and chocolate. We want to show you that there are many more unique pairings that you can try when combining your favourite wines with chocolate.
Join us in our Premier Study to taste a variety of chocolate with 4 of our signature wines. We're confident you will find a combination you'll love.
*Please note, when booking a reservation, we now require all guests to wear a mask when visiting our winery. You may remove your mask for your tasting once at a bar or if eating in Annie's Beach Café but we do ask you to keep it on when moving around inside the facility.
Stay in touch !
Sign Up For Our Newsletter
Keep up to date on the latest wine releases, news and promotions.