Award-winning wines, breathtaking views and exclusive benefits.
Friends of Frind Wine Club members receive semi-annual wine shipments sent to their door or picked up from our beautiful lakefront Estate. Our shipments are fully customizable, or seasonally selected bundles of 6 or 12 bottles. Join today and discover what it means to be a Friend of Frind.
Already a member?
LogIn
---
Next Shipment
Our next shipment will take place in April 2023. Members will receive an email in March to customize your shipment and update any changes to your information.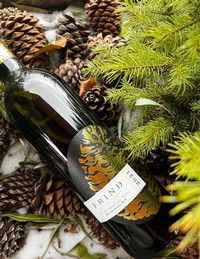 Member Benefits
Enjoy the benefits with being a Friend of Frind
Free shipping on 6 bottles or more.
Complimentary wine tastings for you and up to 5 guests.
First access to pre-released and club exclusive wines.
Wine club exclusive events and winemakers dinners.
Exclusive ability to make reservations on our lakefront patio.
6 Bottle Package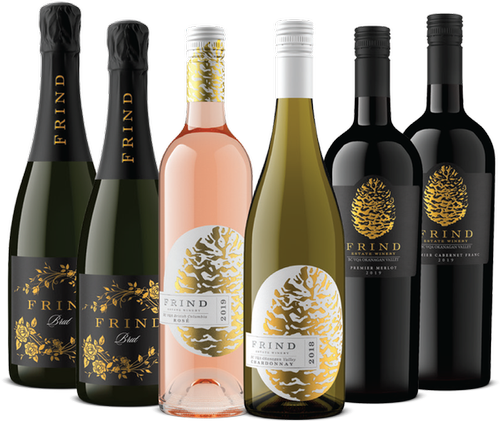 Our 6 bottle package is for the passionate wine drinker who likes to enjoy a range of wines from white to red and rosé. You like to treat yourself to wine throughout the year and get to know which wines you prefer.
12 Bottle Package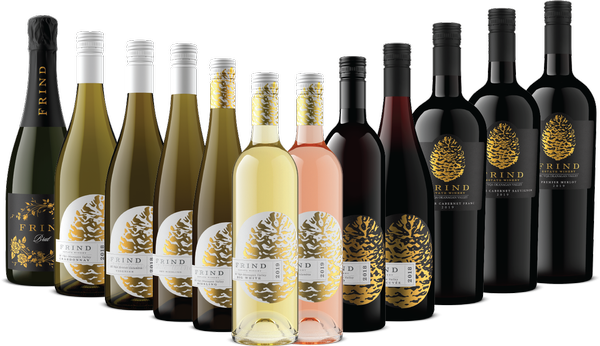 Our 12 bottle package is for the serious wine drinker who likes to have a Frind wine on hand for every occasion. Whether you're looking for that perfect Cabernet Franc to pair with dinner or keeping it casual with Big White on the lake, you'll never leave a wine glass empty.
Committment
Members commit to being a Friend of Frind for a minimum one year, or two shipments. Shipments are seasonally curated with New releases, and Frind favourites, though members have the opportunity to customize their shipment before the cut off date.
Club members authorize and accept Frind Estate Winery to charge their credit card automatically for each upcoming wine shipment twice per year, until written cancellation notice 2 weeks before the next shipment, to wineclub@frindwinery.com.
For full terms and conditions, click HERE
---
Please see our Frequently Asked Questions for more information.
CLICK HERE
If you have any questions regarding our Friends of Frind Wine Club Membership, please contact us. We're always happy to help!
Frind Wine Club
wineclub@frindwinery.com
778-754-8089
Stay in touch !
Sign Up For Our Newsletter
Keep up to date on the latest wine releases, news and promotions.